How Canada's Iregular is forging memorable connections between people and the public space
Using your hands to create and then interact with virtual birds, fish and locusts.
Opening your mouth and seeing your avatar vomit garbage. Closing your mouth and seeing computer-generated plants grow through that garbage and reclaim the space.
Striking poses and watching as digital icebergs emerge from your body and float away.
Using your smartphone flashlight to browse through photographs of the environment or photographs of celebrities.
These may sound like scenes from science fiction or video games, but they're also what happens during Creatures, Products, Icebergs and Telescopes, the 4 interactive experiences that comprise Our Common Home (pictured above), a new public art exhibition that will be seen outside North America for the first time when it's unveiled at Expo 2020 Dubai on February 10.
A person in Montréal interacts with the Icebergs chapter of Iregular's Our Common Home, an interactive art installation that will debut outside North America for the first time when it's unveiled at Expo 2020 Dubai on February 10, 2022. Credit: Studio Iregular
"Our Common Home is a 4-chapter interactive journey that uses artificial intelligence and computer vision to track the movement and behaviour of people engaging with large media facades," says Éloi Beauchamp, CEO of Iregular, the Montréal, Quebec-based new-media art studio that created the artwork, which debuted in Montréal in October 2021 and has been shown in Chicago.
"The idea is to use interactive visual art to raise awareness of our impact on the environment," Beauchamp explains. "In Products, for example, you're having fun engaging with this interactive piece, but then you see a representation of yourself vomiting mountains of garbage, which makes you think about the waste we produce."
Here, Beauchamp shares more about Iregular, including how it established a foothold in the United Arab Emirates, how its cutting-edge technology has helped it survive the COVID-19 pandemic and what comes next.
On how Iregular started
I met Daniel Iregui, Iregular's founder and creative director, in 2018 and thought his art was fantastic. My intent was to bring him onto the roster of L'Éloi, the production house I run, but instead we became partners in 2020. Since then, we've taken what had been a small studio and turned it into a growing company.
On operating during the pandemic
Two weeks after Daniel and I became partners, the pandemic hit. For a new-media art studio that focuses on public art, this was not great news. Thankfully, we had just received a Canada Media Fund grant. So we decided to spend time making the company as strong as we could for September 2021, which is when we thought the world would reopen. For the next year and half, we worked on our catalogue and our technology and kept meeting people. We were on Zoom for 18 months, talking to thousands of people all over the world: artists, cultural event planners, politicians, trade commissioners, art galleries, museums.
On Iregular's focus on public, interactive art
Daniel has always pushed the boundaries of interactive art. For example: how could it work at long distance? And be touchless? And allow for multiple users? He'd been thinking about all this before the pandemic, so when we understood the implications of COVID-19, we said, 'Holy moly, creating this sort of technology makes so much sense now!'"
On Cursor, the technology Iregular developed during the pandemic
It's a long-range, touchless tracking system that uses optics, computer vision and artificial intelligence to turn any façade into a multi-user interactive display. With just a computer, a camera and the Cursor software, we can track light from a smartphone, body movement, hand movement and faces. The technology is used in Our Common Home and 2 other installations, Antibodies and Points in Common. The whole system can be operated remotely. During the pandemic, we had shows in South Korea and Australia, and all we had to do was ship the gear. Someone else would install it, and we'd remotely calibrate it, which allowed us to be active without travelling.
On the Canadian-ness of Our Common Home
Climate change and environmental degradation aren't just Canadian problems—they're global problems. I think Canada is at the forefront of the global climate discussion and has taken the initiative to solve the problem, and in a way Our Common Home highlights that. But the work is also an example of how Canada, and Montréal in particular, is a global hub for interactive art and artificial intelligence. The world knows Canada is a leader in these fields.
On how Iregular made a name for itself in the United Arab Emirates
We went to Dubai Design Week in November 2020 and presented Antibodies and Points In Common and ended up winning the Best of Show award for Antibodies. That gave us great visibility and helped us establish ourselves in the U.A.E. Then we talked to more people there, including members of the Canadian Trade Commissioner Service, and planted the seed to have Our Common Home shown at Expo2020. And here we are!
Two men experiment with Points in Common during Dubai Design Week in 2020. The interactive art installation was one of two works that Iregular presented during the annual festival. Credit: Studio Iregular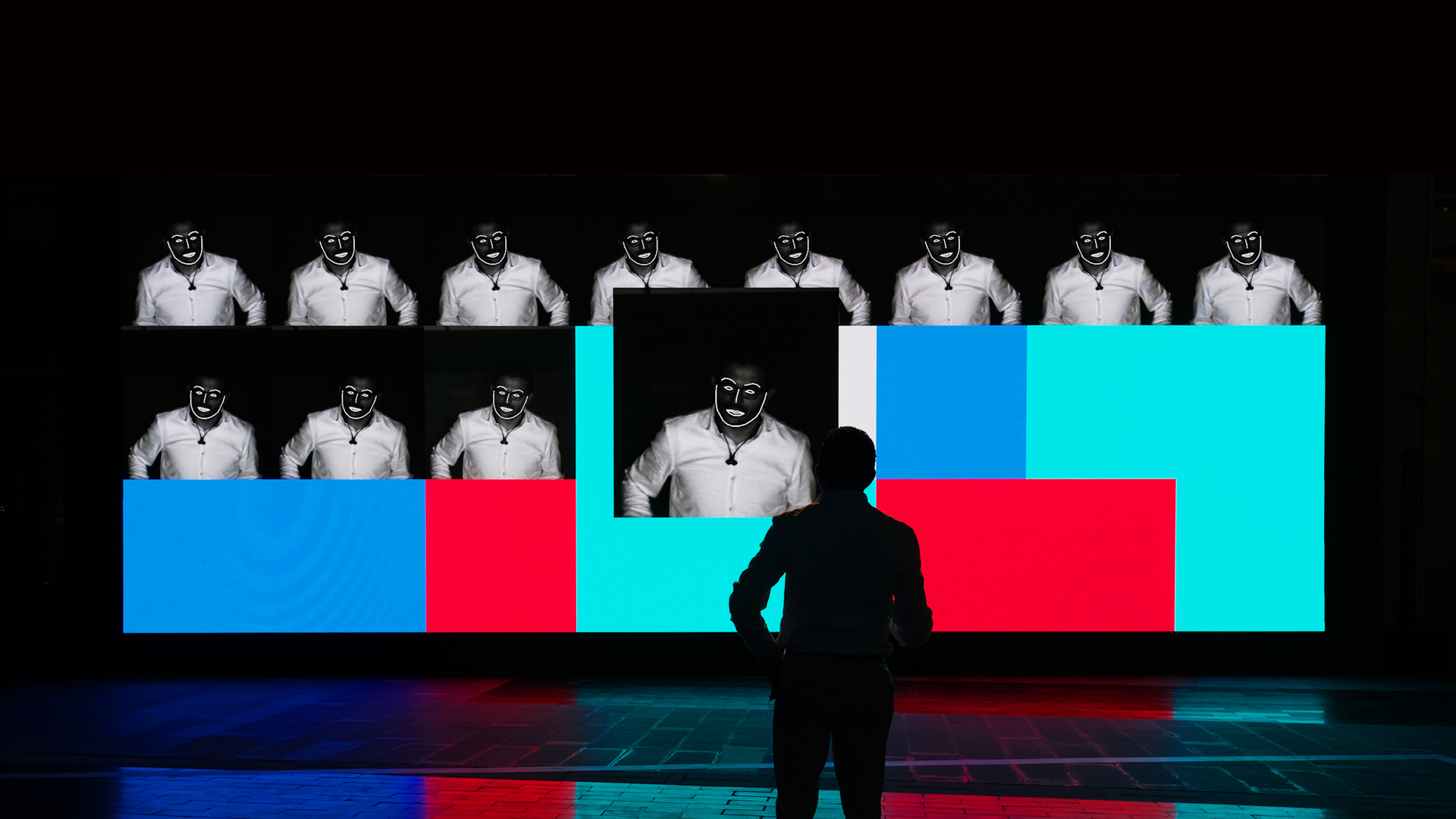 A man stands in front of Antibodies during Dubai Design Week in 2020. The interactive art installation was one of two works Iregular presented during the annual festival. Credit: Studio Iregular
On how the Government of Canada helped Iregular succeed
The resources available amazed me. The Canada Media Fund was the genesis of all this, but the Canadian trade commissioners in the U.A.E. also played a major role. They opened doors for us, shared their market expertise, organized meetings and arranged follow-ups with prospective clients. When that trade-commissioner machine starts to roll, it's awesome. We couldn't have done everything we've done as fast as we have done it without the support of the government of Canada.
On what's next for Iregular in the United Arab Emirates and beyond
We've got two other installations, Omnipresence and Forward, showing at the Canada Pavilion at Expo 2020 until Expo ends. And we also recently finished a month-long exhibition of another work, Control No Control, at the Sharjah Islamic Art Festival. Expo 2020 is an amazing opportunity to showcase our work to the U.A.E. and Gulf region, but I think the growth we've seen will be nothing compared to the future. There's now a phenomenal amount of interest around the world in what we do. It's like we're walking through the desert with buckets of water—everyone knows we're out here and everyone wants some. And that's a great position to be in.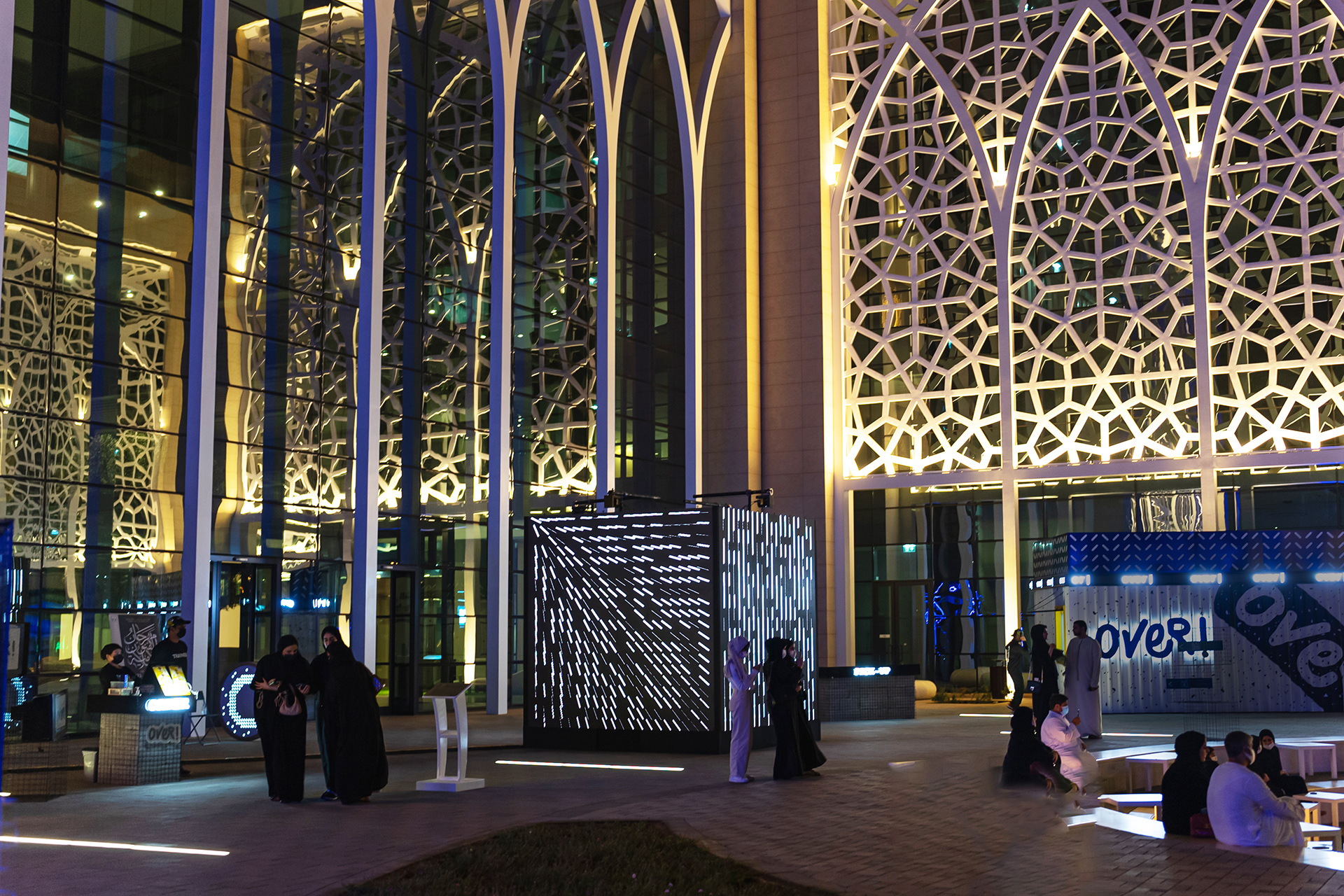 Iregular's Control No Control in Sharjah, U.A.E. The interactive art installation wrapped up a month-long run at the Sharjah Islamic Art Festival in January 2022. Credit: Studio Iregular
A woman reaches out to touch Control No Control at the Sharjah Islamic Art Festival. Credit: Studio Iregular
Our Common Home can be seen at Expo2020 Dubai's Sun Stage from February 11 to March 25, 2022.