The Future in Mind
Canada's Expo 2020 theme, The Future in Mind, serves as a platform to promote opportunities from across Canada's provinces, territories and cities, and throughout all sectors of society. It will highlight Canadian leadership through three key subthemes: Diversity, Artificial Intelligence and Aerospace. These subthemes will promote Canada's advanced technologies, digital innovations, clean energy and education.
Artificial Intelligence
Canada's high-tech sector is growing and competing in global thriving markets.
Toronto, Ontario is home to the highest concentration of artificial intelligence (AI) start-ups in the world, with more than 500 AI companies, largely start-ups.
Learn more about some of Canada's AI hubs:
Aerospace
Among member countries of the Organisation for Economic Cooperation and Development (OECD), an international organisation that works towards building better policies for better lives, Canada ranks 1st in terms of productivity in aerospace manufacturing. As of 2018, Canada boasted several top rankings in the sector including:
Ranked 1st in civil flight simulation;
Ranked 3rd in civil aircraft production; and
Ranked 3rd in civil engine production
Diversity
Canada is home to world renowned cities populated by global citizens. Canadian cities are innovative, diverse and globally competitive, combining community quality of life and business culture.
According to the most recent Canadian Census, over 1-fifth (21.9%) of Canada`s total population are foreign-born.
In 2016, the number of people who reported an immigrant mother tongue increased by 910,400 people (13.3%).
Expo 2020 will be an exceptional platform to display Canada's Innovation, knowledge and expertise in the field of business and culture. Canada's objectives as a participant in Expo 2020 Dubai are:
Increase tourism

Promote innovation

Support international education

Diversify international markets

Attract foreign investments

Increase support for Canadian initiatives

Deepen relationships between Canada and the UAE
The first ever World Expo was held in 1851 at London's Crystal Palace. The Expo was named The Great Exhibition of the Works of Industry of All Nations. Over 100,000 objects were on display and Canada was present!
Since then, Canada has successfully hosted two Expos:  the World Expo '67 in Montréal and the Specialized Expo '86 in Vancouver. Canada has also participated in several world fairs, including most recently at Expo 2005 held in Aichi, Japan and Expo 2010 held in Shanghai, China.
1851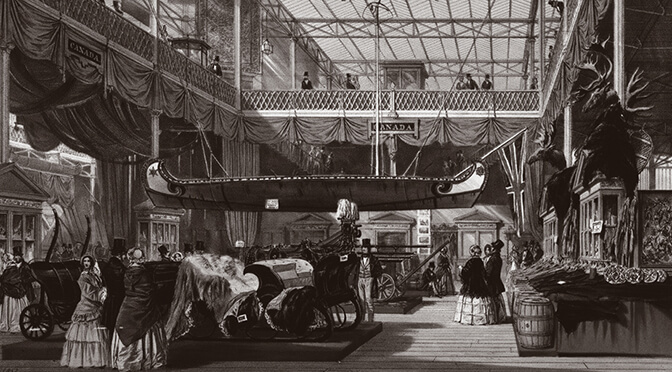 The Great Exhibition in London

May 1 to October 11, 1851
One of the core objectives for Britain was to tell the story of the achievements after The Industrial Revolution. The Great Exhibition was enormously influential on the development of many aspects of society including art and design education, international trade and relations, and even tourism.  Canada's participation at the first two great international exhibitions of the nineteenth century, the Great Exhibition at London's Crystal Palace in 1851 and the Paris Exposition Universelle in 1855, brought together issues and concerns that spanned the full range of the colony's developing innovation.
1967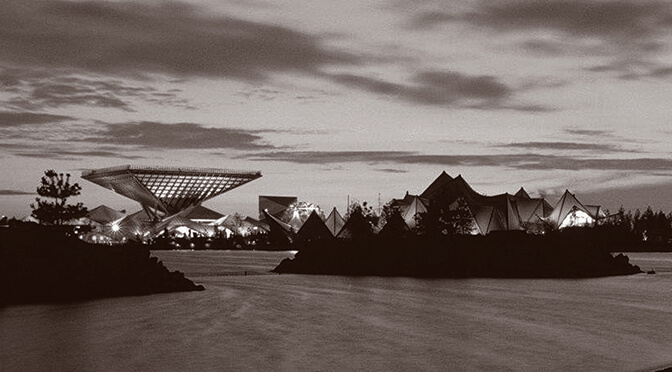 Expo '67 Montréal, Québec

April 27 to October 29, 1967
Canada captured the hearts and minds of the world over with the theme Man and His World, which was celebrated as one of the most successful World Expos of the 20th century with 62 countries having participated.  The fair coincided with Canada's centennial year and produced numerous lasting legacies, including: The Port of Montréal (one of the largest deep sea ports in North America), a vibrant waterfront filled with shops, world class restaurants and downtown living accommodations, as well as studios for filmmaking and AI/digital media – a recognized top tier animation hub.
1986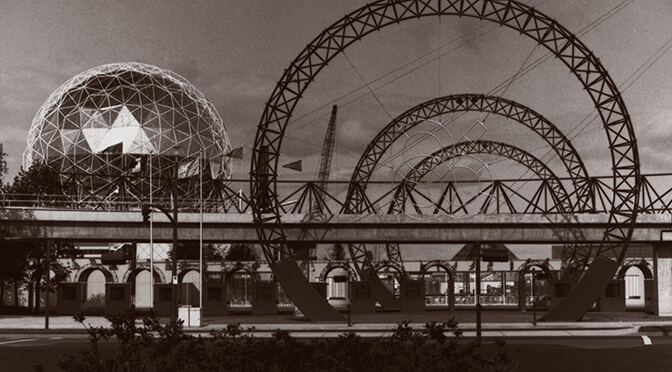 Expo '86 Vancouver, British Columbia

May 2 to October 13, 1986
Canada once again captured the world's attention by hosting the 1986 Specialized Expo in Vancouver under the theme World in Motion – World in Touch. A total of 54 countries participated and Vancouver welcomed more than 22 million visitors, almost double the predicted 13 million. Expo '86 left Vancouver with many lasting legacies, including a deep sea port, a SkyTrain, Science World, BC Place Stadium, Canada Place and a world class trade and convention Centre.  In 2019, it still stands as the last Specialized Expo to be held in North America.  The success, beauty and accessibility of Vancouver not only provided pride and confidence to the region, but it also helped pave the way for Canada to host the Vancouver 2010 Winter Olympic and Paralympic Games.