If you do a Google image search for "international trade," here's a sample of what you'll get: handshakes superimposed on world maps; world maps superimposed on handshakes; world maps with arcing coloured lines connecting countries and continents; and a signpost with IMPORT pointing one way and EXPORT the other.
But the images that have the greatest impact — that really bring home the sheer size and complex web of infrastructure upon which global trade relies — are the photographs of ships and ports.
These awe-provoking images set the imagination spinning. Ships three times as long as a football field! Brightly coloured containers that look like stacked LEGO bricks — what could be inside them? Tugboats straining to nudge ships toward a bustling dock where massive cranes sit ready to pluck cargo and place it onto trucks or trains headed to, well… to the far-flung reaches of who-knows-where? Dockworkers in fluorescent vests and steel-toed boots, dwarfed by machinery and materials that they have to make sure runs smoothly and safely, rain or shine — what is that job like?
These are just some of the images you'll see in this photo essay on the Port of Prince Rupert's Fairview Container Terminal, in northwestern British Columbia.
Operated by the Dubai-based company DP World, the terminal is an integral part of the port, which itself plays a critical role in growing Canadian trade.
Not only is the Port of Prince Rupert home to North America's deepest harbour, which allows it to accommodate the largest ships in trans-Pacific trade, but it's also the third-largest port in North America by value of trade — $60 billion in 2020.
Perhaps more importantly given the prominent role the Asia-Pacific region in plays in Canada's international trade, Prince Rupert is the continent's closest port to Asia by up to three sailing days. For example, it would take a ship coming from Shanghai 36 extra hours to get to Vancouver, and 68 extra hours to get to Los Angeles.
Read on to get a glimpse of the Fairview Container Terminal facility and the some of the hundreds of people who work there, and learn more about the critical role it plays in making Canada a global player in international trade.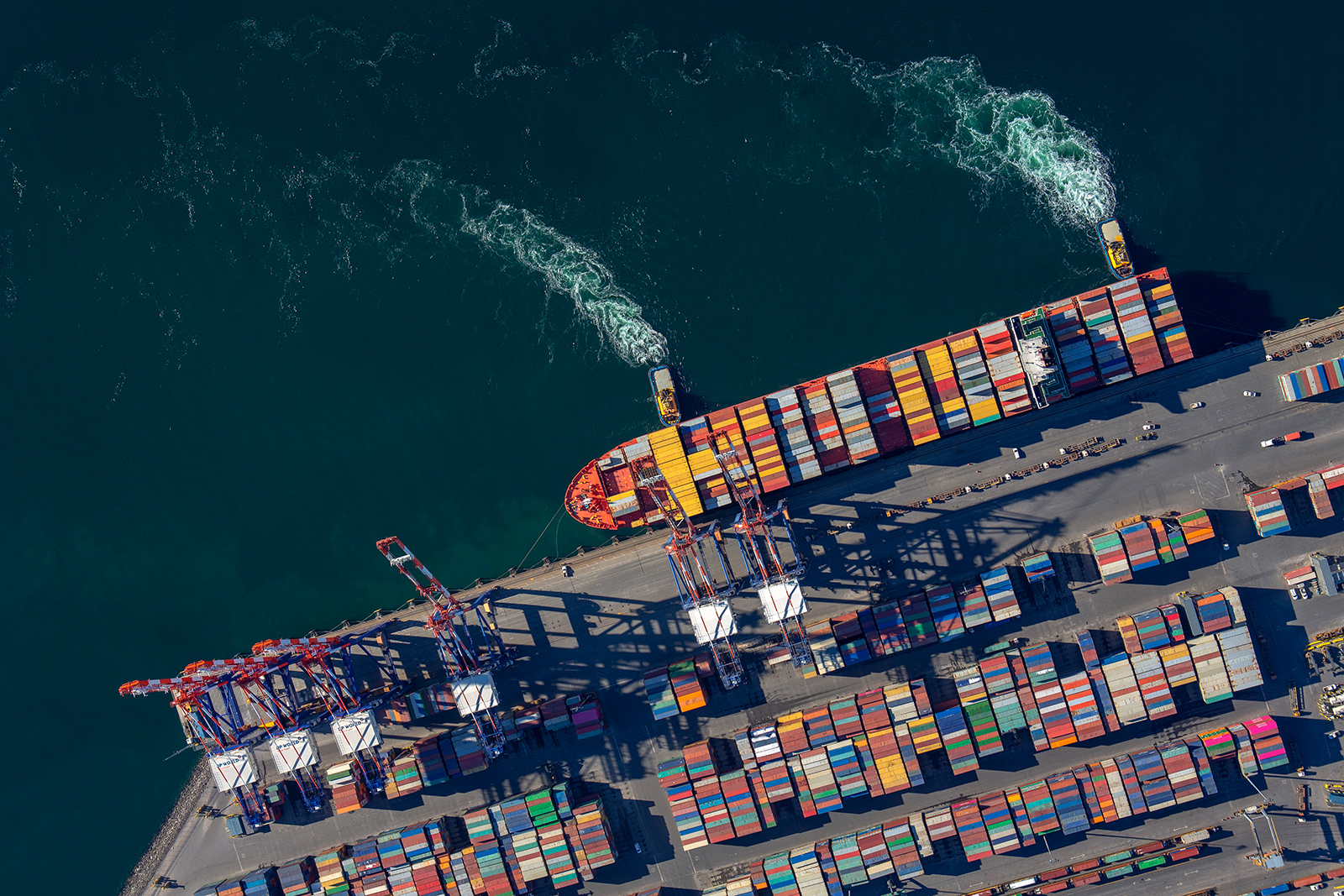 Photo Credit © lonniewishart.com
Two tugboats work a container ship into position so that it can dock at the Fairview Container Terminal.
When Fairview opened in 2007, it was North America's first dedicated ship-to-rail container terminal and had capacity for 500,000 containers, which in the shipping world are known as twenty-foot-equivalent units, or TEUs.
Then in 2015, DP World, a Dubai-based company that operates port facilities around the world, bought Fairview for $580 million, expanding its investment and presence in the Canadian market (DP World operates three other facilities in British Columbia and one in New Brunswick).
By 2017, DP World had expanded the terminal, increasing its capacity to 1.35 million TEUs. The facility's next expansion, expected to be complete in 2022, will further increase its capacity to 1.8 million TEUs.
DP World's investment in and expansion of the Fairview Container Terminal is expected to eventually create 300 full-time jobs at a 41-hectare facility, which is about the same size as 50 Canadian Football League fields.
"DP World Prince Rupert is an essential logistics hub that links Canadians to the goods they need from the Asia Pacific region," says Maksim Mihic, general manager and CEO of DP World Canada. "It also provides export opportunities for Canadian businesses to expand beyond traditional North American markets. With ample industrial land for expansion of the terminal and related logistics industries, the Port of Prince Rupert is critical to the future of Canadian trade, ensuring we have the capacity needed in our supply chain. DP World is proud of the role we have played in creating economic growth in the region through our investments in infrastructure and employment at our terminal."

Photo Credit © lonniewishart.com
The Hapag-Lloyd ship Leverkusen Express at the Fairview Container Terminal dock in August 2018.
Four months earlier, in April, YM Masculinity had arrived at the terminal, marking the first time the global shipping giant's cargo had moved through the Port of Prince Rupert. At the time, Uffe Ostergaard, the president of Hapag-Lloyd America, said that the company had decided to incorporate Prince Rupert into its network because it was the closest major North American port to Asia with direct access to Canadian National Railway's continental rail network.

Photo Credit © lonniewishart.com
Kaitlin Johnny checks the pins that help secure a full shipping container to a truck. Johnny is a member of the Cree First Nation and has worked as a longshorewoman at the Fairview Container Terminal since 2018.
"Before I started this job, I was working 15-hour days doing highway flagging," she says. "This is much better because the hours are shorter and the pay is better. My son gave me the application to work at the container terminal, which I'm grateful for because since DP World came along in 2015, they've really changed things for jobs. What I like about my job is that I know a lot of people that I work with because Prince Rupert is such a small town. It's not an easy job, but I love working outside and feeling like I'm part of something important, so it's worth it."

Photo Credit © lonniewishart.com
Mia Petri stands at her desk at the Fairview Container Terminal, where she works as a rail planner, organizing the inbound and outbound rail traffic. Petri used to own her own business in Prince Rupert but has worked at the terminal since 2007, when the facility first opened.
"I've been a rail planner since 2012, and I still really love my job," she says. "It's like a puzzle, but one that changes every day. Sometimes it's easy and sometimes it's tricky, but that keeps it interesting. Also, we have a great crew here. Everyone works hard to make this terminal successful. Since 2015, the terminal has really expanded, and that's been good because it's created more jobs. I think Prince Rupert had been at a bit of a standstill, with people losing fishing jobs and pulp mill jobs and moving away. But I've seen families move back here because the container terminal and the port are growing to handle all the cargo coming through. Having a big company invest in Prince Rupert has been great for our people and community."

Photo Credit © lonniewishart.com
A panoramic view of the Fairview Container Terminal from atop one of the eight gantry cranes that currently line the dock. The eighth crane – which at 92 metres high also happens to be the largest quay crane in Canada – was delivered in June 2021.

Photo Credit © lonniewishart.com
The Fairview Container Terminal has grown significantly since 2015, but even in the days before DP World took over operation of the facility, Prince Rupert was being recognized as an increasingly important calling point by global shipping companies such as COSCO. In this image, the MV COSCO Prince Rupert approaches the terminal's dock in April 2011, when the ship made its maiden voyage to Prince Rupert. David Bedwell, who at the time was executive vice-president for COSCO Canada Inc., said, "Naming the vessel MV COSCO Prince Rupert recognizes the growing importance of the Port of Prince Rupert in the Asia-Pacific trade route."

Photo Credit © lonniewishart.com
Carrying three giant gantry cranes, a ship edges closer to the Fairview Container Terminal in May 2017, marking the end of a one-and-a-half-month journey across the Pacific Ocean. The arrival of the three 80-metre-high cranes was a key part of the terminal's expansion, as it brought the total number of cranes at the terminal to seven, which meant that for the first time in the facility's history, two ships could be loaded or unloaded at the same time.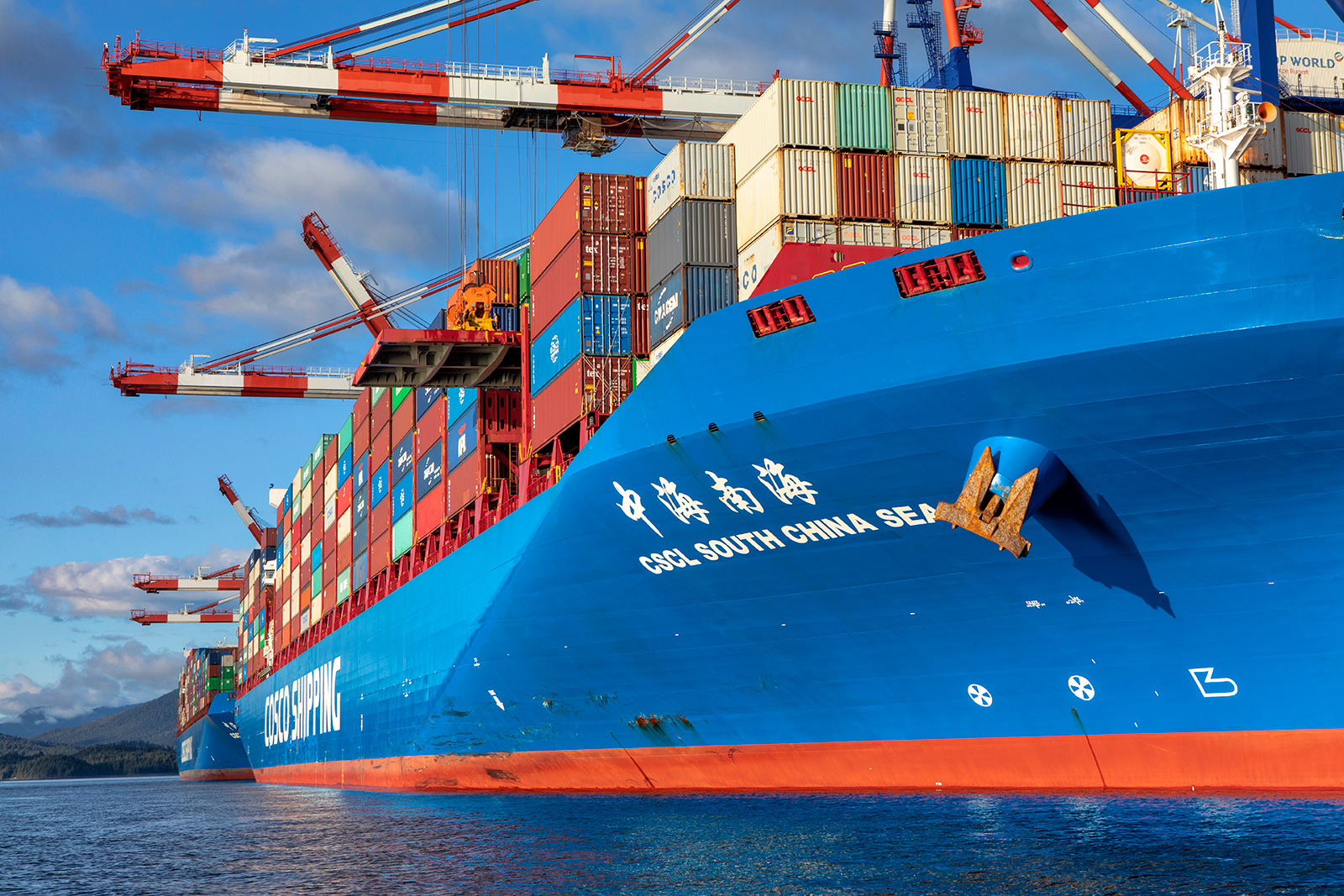 Photo Credit © lonniewishart.com
The cranes that were delivered to the Fairview Container Terminal in 2017 reach across to unload cargo from various ships. Because the beams at the top of the new cranes are longer than those of the terminal's older cranes, they can cover a greater distance across ships that can be more than 40 metres wide at their widest point and carry more than 10,000 shipping containers.

Photo Credit © lonniewishart.com
A dockside view of a container ship MSC Auriga at the Fairview Container Terminal in October, 2021. The ships and cranes at the facility are massive, but so is the surrounding web of infrastructure and equipment that helps keep everything running smoothly. This includes seven working rail tracks, six storage rail tracks, and four radiation scanning portals, which are used to check cargo for dangerous levels of radiation.

Photo Credit © lonniewishart.com
Lena Steinbrenner braves the rain and wind on the dock at the Fairview Container Terminal, where she works as shift manager, primarily with the terminal's rail department. Steinbrenner worked for a logistics company in Prince Rupert before getting a job at the terminal in 2017.
"I'm one of the people responsible for the day-to-day organization of the terminal, making sure things run on time and that people are safe – especially with the pretty challenging weather we get here," she says. "It's a stimulating and fast-paced atmosphere, because this terminal is growing and getting busier all the time. We can have anywhere from 50 to 100 people on-site during a shift, but everyone is great. It makes me think of this slogan the Port of Prince Rupert has: Small town, big port. For me, that really rings true, because this place has some of the friendliest people I've ever met, and I think pulling together a team like the one we have here is the best part of the job. I think the investments that have been made in expanding the terminal have helped create a lot of positive growth around Prince Rupert, and that's allowing people to stay in the north, which is what I was looking for."

Photo Credit © lonniewishart.com
Two tugboats guide the Northern Jamboree toward the Fairview Container Terminal in December 2020. Authorities at the Fairview Container Terminal and the Port of Prince Rupert see a bright future ahead for the facility and the surrounding community.
"In the past decade, the volume of cargo and the number of people employed at the Port of Prince Rupert have doubled, benefitting communities across northern British Columbia and other parts of Western Canada," says Shaun Stevenson, president and CEO of the Prince Rupert Port Authority. "The Port's success is due in large part to the commitment of the 3,700 men and women who are directly employed in marine, terminal, rail, truck and logistics activities, with an additional 4,100 people working for businesses that service and supply the port industry."